Nest of Steamed Kale with Pressed Salad & Sweet Vinaigrette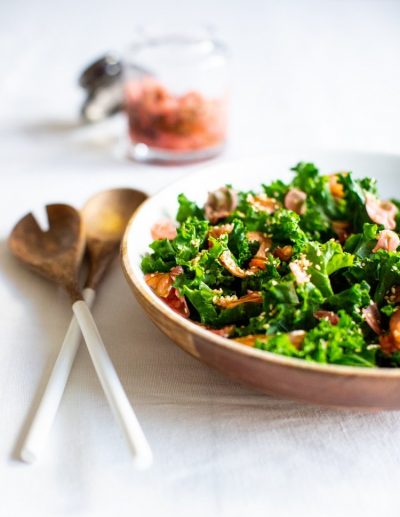 Steamed Kale
Remove the leaves and discard the fibrous stem or save for making vegetable stock.
Tear the leaves into pieces and place in a steamer basket/pot.
Bring a small amount of water to a boil, once boiling pop on the steamer basket and steam 4 or 5 minutes until vibrant green.
Pressed Salad with Sweet Vinaigrette
1 cucumber, sliced into thin rounds
2 cups red radish, sliced into thin rounds
¼ teaspoon sea salt
Sweet Vinaigrette
¼ cup brown rice vinegar
¼ cup mirin
Pinch sea salt
1 tbsp. toasted white sesame seeds
Instructions
Place the vegetables and sea salt in a small bowl and mix. If you don't have a pickle press keep the vegetables in the bowl and put a weight on a plate and place directly on the vegetables.
Allow to sit for at least one hour.
Squeeze any excess liquid from the salad by gently squeezing the vegetables.
Toss with the dressing and sprinkle with toasted white sesame seeds.