Rich & Creamy Asparagus Soup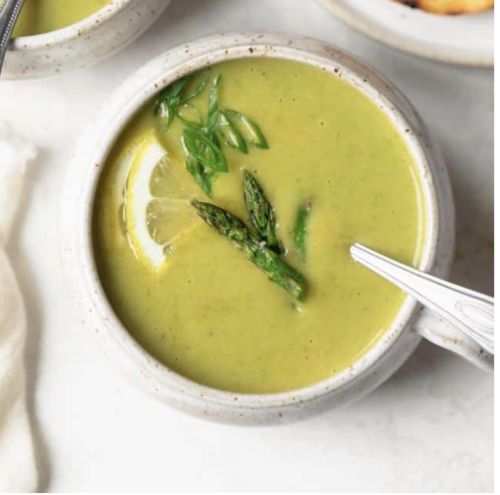 Asparagus, or garden asparagus, folk name sparrow grass, scientific name Asparagus officinalis, is a perennial flowering plant species in the genus Asparagus. Its young shoots are used as a spring vegetable. It was once classified in the lily family, like the related Allium species, onions and garlic. Delicious as a soup, steamed, roasted or sautéed and one of our favourite spring/summer vegetables.
1 cup cashews, soaked overnight
1 large onion, diced
3 cloves garlic, minced
2 large bunches about 2lb. asparagus,
1 umami instant stock sachet
2 cups warm water
½ tsp each thyme, basil and marjoram
1 tbsp tamari
2 large handfuls spinach
3 tbsp nutritional yeast
1 tbsp lemon juice
Garnish
Sliced lemon
Thinly cut greens from spring onion, cut on the bias
Trim the woody ends off the asparagus and discard. Cut the asparagus into one-inch pieces. Discard the soaking water from the cashews and set aside. In a small jug, mix the umami stock in the warm water. In a heavy based pot warm a splash or two of water over a medium heat. Add the diced onion and garlic and cook for 5 minutes on low/med heat. Add the asparagus, pieces, and the umami instant stock with the dried herbs and tamari. Bring to a boil, reduce to a simmer, cover, and cook until asparagus is very tender, 10 to 15 minutes. Transfer to a high-speed blender add the cashews, nutritional yeast, and lemon juice, blend until smooth. You can add more spinach to achieve desired colour. Return to the pot and warm over low heat. Garnish with a little oat cream or soy cream if desired.